Red Brick Kitchen & Bar
8093 Main St
Dexter, MI 48130
(734) 424-0420
Aubree's Pizzeria & Grill
8031 Main St
Dexter, MI 48130
(734) 424-1400
The Dexter Pub
8114 Main St
Dexter, MI 48130
(734) 426-1234
Wings N Things
3220 Broad St
Dexter, MI 48130
(734) 426-7754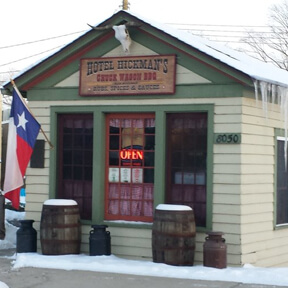 Hotel Hickman Chuck Wagon BBQ
8050 Main St, Dexter, MI 48130
(734)646-6261
Yee-haw! Get your lassos ready and your napkin bibs on! Hotel Hickman Wild West Chuck Wagon BBQ is one of the greatest places in all of the Dexter area to pick up some delicious barbecue in an old western setting! They go to great lengths to preserve the classic techniques of cooking barbecue such as smoking their pulled pork for over 24 hours, their chicken is thick and juicy, their steak if tender and delicious, and their ribs are fall off the bone good. And they have the best mac and cheese and apple pies! If you don't believe us then head over there and find out just how good they are for yourself.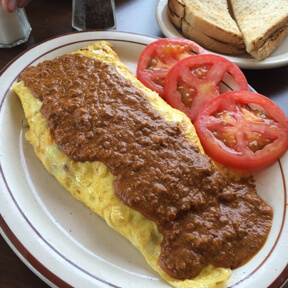 Riverview Cafe Restaurant
8124 Main St, Dexter, MI 48130
(734)388-6028
When you and your friends are hungry and want to enjoy a meal at a fantastic, casual establishment then you definitely need to head to Riverview Cafe Restaurant. Their menu has all the best classic American food, like breakfast classics that you enjoy such as omelettes, pancakes fresh off the griddle, and so on and so forth. They also have some fantastic originals such as the Mexican Omelette that you will simply not be able to pass up on. The atmosphere is excellent and the servers are always incredibly friendly. You will not be able to believe how simply fantastic ever aspect of the Riverview Cafe is.
Barred Rock Cafe
7049 Dexter Ann Arbor Road
Dexter, MI 48130
(734) 253-2100
Joe and Rosie's Coffee & Tea
8074 Main St
Dexter, MI 48130
(734) 253-2344
Food Zone Chinese Restaurant
7023 Dexter Ann Arbor Rd
Dexter, MI 48130
(734) 426-3410
A & W Root Beer Drive In
8220 Dexter Chelsea Rd
Dexter, MI 48130
(734) 426-4427